Edition
Title:Cultural Heritage  
Date of Issue: 03.06.2022.
Author: Tanja Kuruzovic
Type edition: commemorative
Printing techniques: multicolour offset
Sheet: 2х5
Paper: muflep 100g
Printing House: Blicdruk, Sarajevo
Motive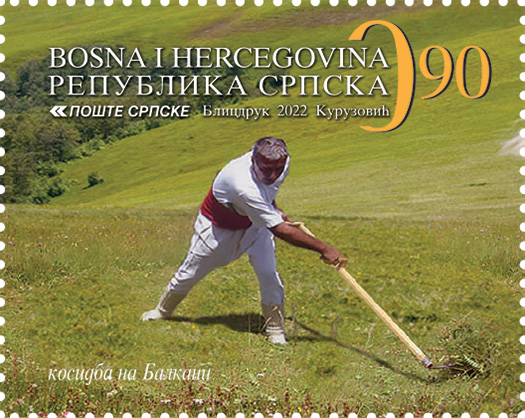 Motive: Grass mowing 
Catalogue no.: 877
Perforation: 13 3/4
Face value: 0,90 BAM
Quantity: 15 000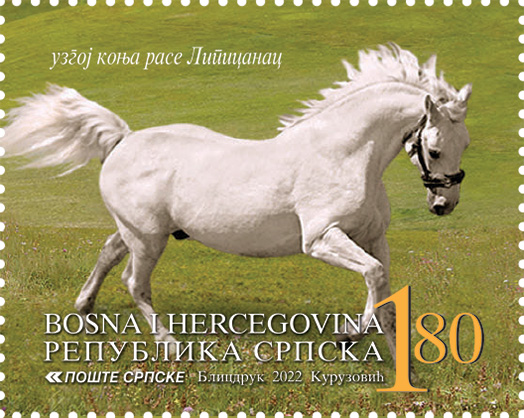 Motive: Lipizzaner Horse
Catalogue no.: 878
Perforation: 13 3/4
Face value: 1.80 BAM
Quantity: 15 000
FDC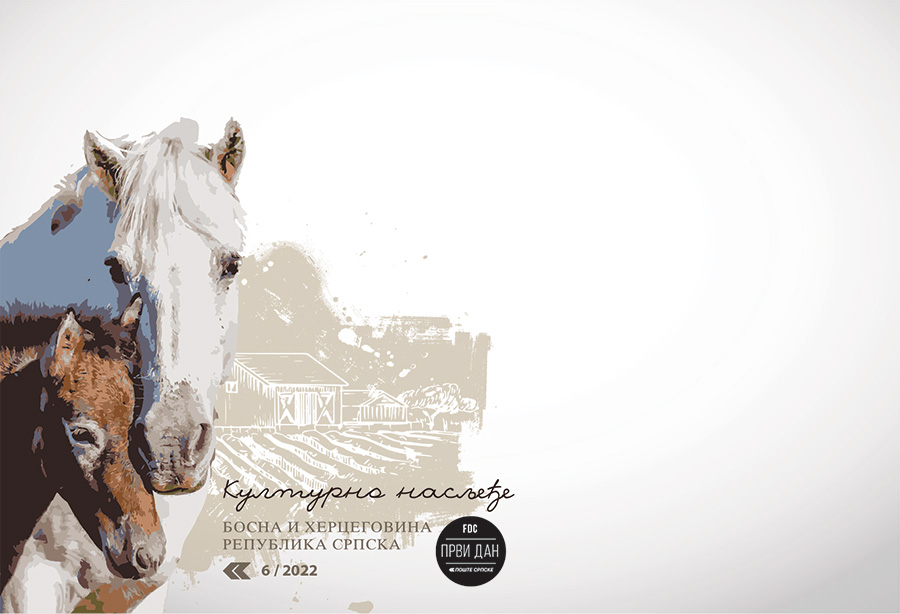 Intangible cultural heritage is practice, presentation, expression, as well as combined knowledge and necessary skills, which communities, groups and in some cases, individuals recognize as part of their cultural heritage.
Passed down from generation to generation, constantly renewed in social communities and groups, as a reaction to the environment, as an interaction with nature and historical conditions of existence, intangible cultural heritage evokes a sense of identity and continuity. With this postage stamp we represent the Lipizzaner horse breed and traditional mowing in the Balkans
The combination of culture and agriculture is the Lipizzaner horse breed. The breed is the result of long-term and systematic selection in the direction of nobility and grace, and was created in 1580 in Lipica in Slovenia, then Austro-Hungary. Today, in the Republic of Srpska, registered breeders, equestrian clubs and one private stud farm are engaged in breeding Lipizzaner horse breeds next to the "Vucijak" stud farm, which are gathered together in the recently established Association of Lipizzaner Breeders. When it comes to state stud farms where Lipizzaners are bred, they exist today in: Austria (Piber), Hungary (Szilvasvarad), Slovenia (Lipica), Slovakia (Topoljcjanki), Italy (Monterotondo), Romania (Fagaras), Croatia (Lipik and Djakovo), Bosnia and Herzegovina (Vucijak) and Serbia (Karadjordjevo). Together with these Stables, breeders from the Republic of Srpska have entered the process of nomination for entering the list of Intangible Cultural Heritage of UNESCO in connection with the tradition of breeding this horse.
Since 1992, a competition has been held in the traditional rural business of mowing grass in the Balkans near Mrkonjic Grad. Mowing the grass is one of the most important field jobs to which many customs are connected. Mowing in the Balkans is important field work as Mrkonjic Grad is one of the most important blacksmith centers where the famous "Varcarka" scythe is made by hand, which was named after Varcar Vakuf, the former name of Mrkonjic Grad, in which these sharp scythes are made several centuries ago. The goal of the competition is to preserve customs and it is one of the most attractive manifestations of this kind in the former Yugoslavia.
Author: Tanja Kuruzovic
Publisher: Poste Srpske a.d. Banjaluka
Cooperation: dr. Miljan Erbez - Erbez Consulting and Museum of Republic of Srpska, museum consultant - ethnologist Vladimir Djukanovic