Edition
Title::Literature
Date of Issue: 20.10.2021.
Author: Bozidar Dosenovic
Type edition: commemorative
Printing techniques: multicolour offset
Sheet: 8+1
Paper: muflep 100g
Printing House: Blicdruk, Sarajevo
Motive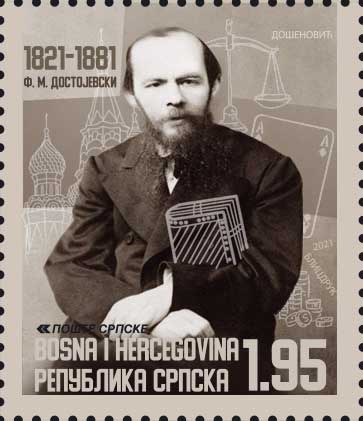 Motive: Childrens drawing
Catalogue no.:885
Perforation: 13 3/4
Face value: 1.95 BAM
Quantity: 15 000
FDC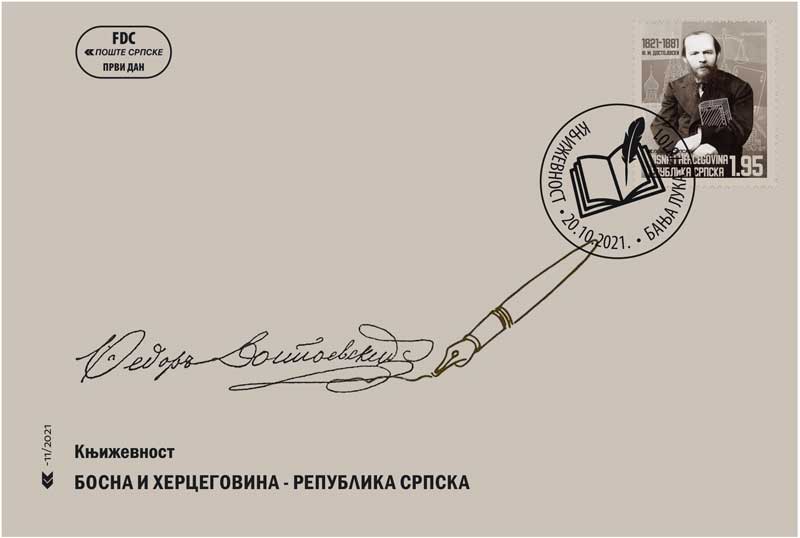 Fyodor Mikhailovich Dostoevsky, born on November 11, 1821 in Moscow, died on February 9, 1881 in St. Petersburg, was a Russian writer and one of the greatest writers of all time.
He finished military school. At the age of twenty-eight, he was sentenced to death for participating in a revolutionary organization. After being pardoned, he spent four years in forced labor in Siberia.
He is one of the most influential writers of Russian literature. According to the width and significance of his influence, especially in modernism, he was a world writer in the rank of Shakespeare and Cervantes. Dostoevsky's realism represents a kind of transition to modernism, because his creation in the era of modernism becomes a kind of model of writing. From the aspect of literary technique, his novels are still close to realism due to the coverage of the whole, the way of characterization and the dominant narration, while dramatic dialogues, philosophical discussions and polyphony make him a forerunner of modernism. He is the founder of a psychological novel. According to many, he is also a forerunner of existentialism.
Most of Dostoevsky's novels are set in the gloomy atmosphere of the metropolitan underground, centered around exciting events inherited from a trivial novel and black chronicles (murder, fathermurder, crime, theft, scandals of various kinds) and revolve around "damned questions" for humanity: the nature of evil, human suffering, mortality and immortality, the existence and non-existence of God, freedom and responsibility, the fate of Russia and the West. As some critics have noted, Dostoevsky is essentially a spiritual author, and his characterization of man as "the heart in which God and Satan fight, and the pledge is human life" is perhaps an appropriate description of his own work.
His most famous works are "Crime and Punishment", "Brothers Karamazov", "Gambler" and "Idiot".
Author: MA Bozidar Dosenovic
Publisher: Poste Srpske a.d. Banjaluka