Edition
Title:: 75 years of the Railway Brcko-Banovici
Date of Issue: 17.09.2021.
Author: Nebojsa Djumic
Type edition: commemorative
Printing techniques: multicolour offset
Sheet: block
Paper: muflep 100g
Printing House: Blicdruk, Sarajevo
Motive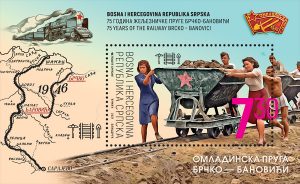 Motive: youth railway Brcko-Banovici
Catalogue no.: 880
Perforation: 13 3/4
Face value: 7.30 BAM
Quantity: 15 000
FDC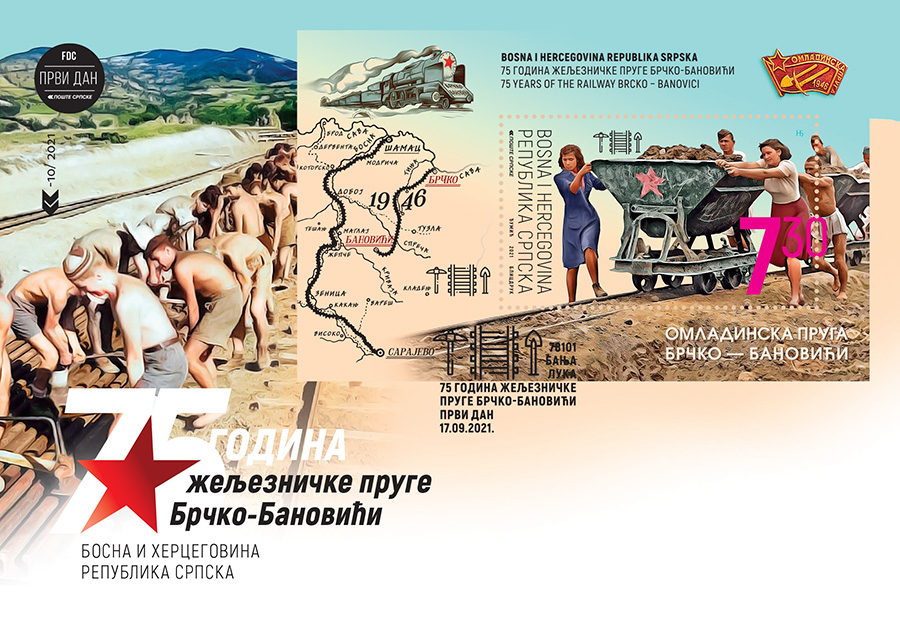 The Second World War was far more destructive for the area - where the united South Slavic people lived until the beginning of the 1990s - than the First. The Federal People's Republic of Yugoslavia emerged from the greatest war conflict in the history of mankind so far with a completely destroyed economy. In the central republic of this state union - Bosnia and Herzegovina - the economic capacities and the traffic network were completely destroyed, so that immediately after the end of the war, plans for their reconstruction were adopted. Within these plans, the construction of the Brcko-Banovici normal gauge railway (1,435 mm) was an absolute priority.
For the post-war economic recovery of socialist Yugoslavia, it was necessary to provide a good raw material base. Rich deposits of relatively high-calorie, Banovici coal forced the highest leaderships of Bosnia and Herzegovina and the Federal People's Republic of Yugoslavia to plan the construction of a railway connection between Banovici and the nearest major traffic hub - Brcko, early in the beginning of 1946.
From mid-March to the end of April 1946, preparations for the realization of this project lasted, and on the Labor Day of the first youth work brigade in the Federal People's Republic of Yugoslavia, work began on the route of the future railway. Under the slogan "We are building the railway, the railway is building us", 220 brigades worked on 24 sections, with a total of 62,268 young men and women from all over Yugoslavia, and they were assisted by about 2,000 volunteers from abroad.
In order to build 92 kilometers of railway between Brcko and Banovic, the brigadiers - mostly by hand, with very few tools and without mechanization - had to dig 1.36 million cubic meters of soil and 134 thousand cubic meters of stone, drill three tunnels and build 22 bridges, 25 kilometers of embankment and 177 other structures. The railway was completed in just 190 days of hard work, and it was ceremoniously opened to traffic on November 7, 1946. 
The Brcko-Banovici railway was the first federal action of the Yugoslav youth, and even today the words of the famous writer Miroslav Krleza resound on its rails: "This is not the first railway in the world for sure, but it is the first built by children ..."
Author: Nebojsa Djumic
Publisher: Poste Srpske ad Banjaluka
Cooperation: Goran Barac, publicist from Banjaluka