Edition
Title:50 Years from the Gallery to Museum of contemporary art 
Date of Issue: 03.09.2021.
Author: Nebojsa Djumic
Type edition: commemorative
Printing techniques: multicolour offset
Sheet: 8+1
Paper: muflep 100g
Printing House: Blicdruk, Sarajevo
Motive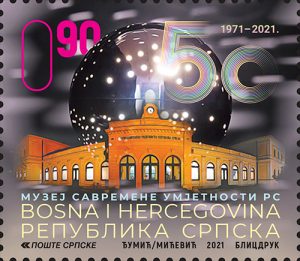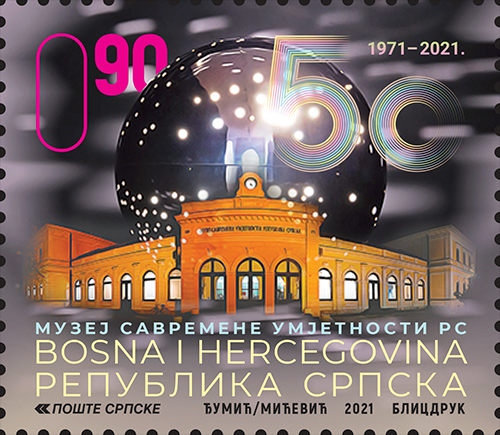 Motive: Building of the Museum, art piece "Ballet of art for Banjaluka", number 50 (logo of the museum)
Catalogue no.: 855
Perforation: 13 3/4
Face value: 0,90 BAM
Quantity: 10 000
FDC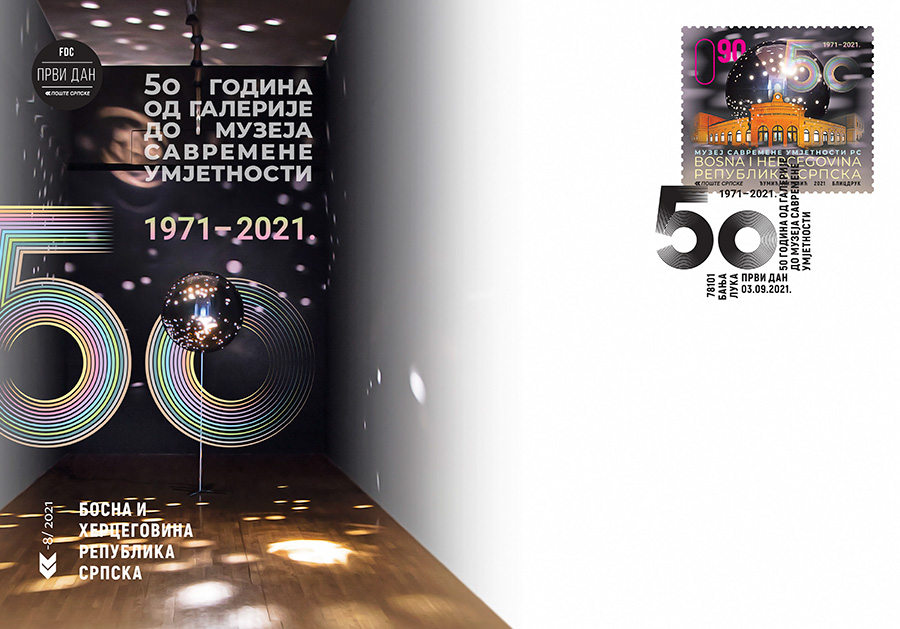 On the occasion of the 50th anniversary of the founding of the Museum of Contemporary Art of Republika Srpska and the 130th anniversary of the erection of the Old Austro-Hungarian Railway Station in Banja Luka, where the Museum is located, Poste Srpske issued a philatelic edition of a postage stamp dedicated to these important anniversaries.
The Museum of Contemporary Art of Republika Srpska is the central museum institution of Republic of Srpska in charge of fine arts and the only museum institution in Bosnia and Herzegovina with this name and is closely profiled for the field of contemporary art. The Museum focuses its activities on actively encouraging the development of the contemporary art scene of the space in which it operates, functioning as the core of collecting, preserving, studying and presenting contemporary art practices. The Museum bases its vision on local, regional and international cooperation with relevant institutions, which enables active monitoring and presentation of current artistic trends. Through these activities, the Museum wants to encourage cooperation and create a lively, dynamic art scene, whose achievements will be recognized internationally.
The Museum of Contemporary Art of the Republic of Srpska was founded in 1971 as the Art Gallery in Banja Luka, and in 1994 the institution was renamed the Gallery of Fine Arts of the Republic of Srpska. By the decision of the Government of the Republic of Srpska on February 10, 2004, it was renamed to the Museum of Contemporary Art of the Republic of Srpska, when it became the central museum institution.
In its collection, the Museum preserves a large number of works of Yugoslav, European and world art created in the period from 1945 to the present day and represents a unique collection in our area. In addition to the development of the local art scene, the Museum is actively working to build an audience and strives to remain a relevant factor in the development of an emancipated society.
Author: Nebojsa Djumic
Publisher: Poste Srpske a.d. Banjaluka
Cooperation: dr. Sarita Vujkovic, director of the Museum of contemporary art of Republic of Srpska and Museum of contemporary art of Republic of Srpska