Edition
Title:: 150 Years since the Birth of Orville Wright
Date of Issue: 29.01.2021.
Author: Nebojsa Djumic
Type edition: commemorative
Printing techniques: multicolour offset
Sheet: block
Paper: muflep 100g
Printing House: Blicdruk, Sarajevo
Motive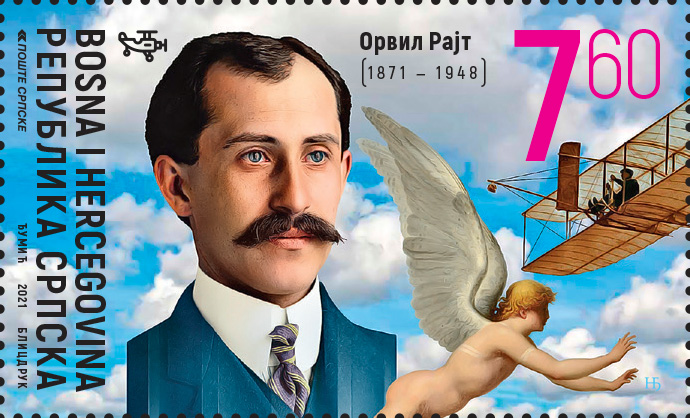 Motive: Orville and Wilbur Wright, plane and Icarus
Catalogue no.: 838
Perforation: 13 3/4
Face value: 7.60 BAM
Quantity: 15 000
FDC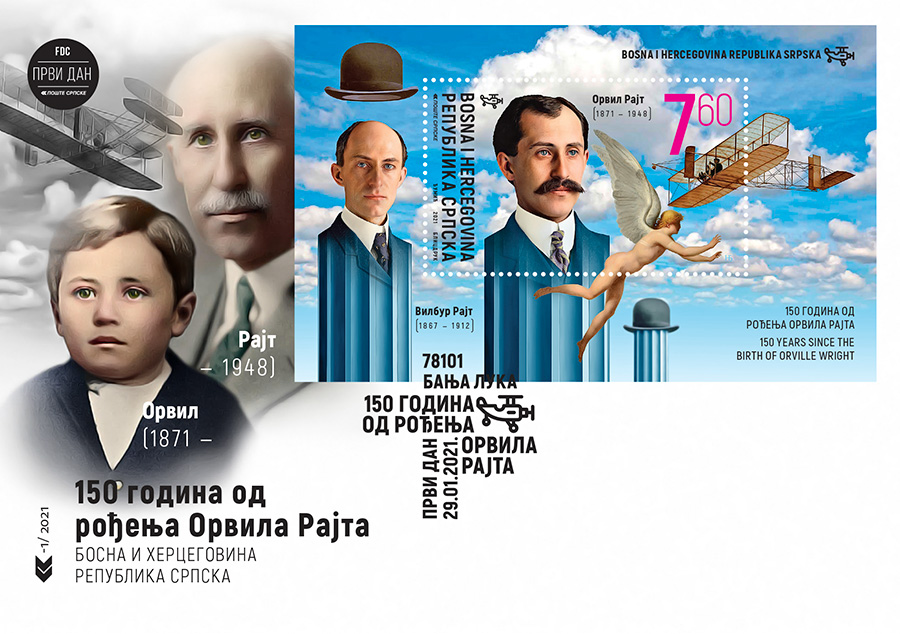 Orville Wright, one of the two Wright brothers, an American pilot and aircraft designer, a pioneer of aviation, who in 1903, with his brother Wilbur, performed the first flight in the history of aviation in a plane they built themselves.
They made the first flight on December 17, 1903, and in 1908 they interested the US Department of War and signed a contract for the production of the first military aircraft. After the death of his brother Wilbur in 1912, Orville continued to run the Wright company on his own. He sold his share in 1915 and has since worked independently on aircraft development. In 1929, he received the newly established Daniel Guggenheim Medal for his joint contribution, with his brother Wilbur, in the development of aviation.
After the first flights, the Wright brothers gave up the recumbent steering positions and installed a seat next to the engine. Orville managed to perform the first circular flight on June 20, 1905, landing at the place of takeoff, and on December 1, Wilbur flew with the passengers. Despite everything, their first public flight due to bad weather ends after a couple of "jumps" of the plane. American journalists declare them lying brothers, and their plane a utopia.
At the time, many constructors in France were trying to make an airplane. They had all heard of the Wright brothers and wanted to know as much as possible about the rudder, engine, and wing shape, but the Wright brothers skillfully hid it.
On October 9, 1905, the Wright brothers sent a letter to the famous French aircraft designer Ferdinand Feber, in which they offered a contract for the assembly of aircraft capable of flying 40 km and aircraft that could carry passengers. Wilbur brought the plane to France in 1908 by ship, in large boxes, assembled it and, given the great interest, only for experimental, short flights, not wanting to discover its true possibilities. On July 21, 1908, Wilbur stopped rewriting the "lying brothers" by staying in the air for 1 hour, 31 minutes and 25 seconds. He made circles and "eights" above the heads of astonished spectators. Records were set, he covered 66.6 km and reached an incredible speed of 60 km / h. In order to remove all doubts, on December 31, 1908, he had a barograph installed between the wings. After landing, the readings were: flight duration 2 hours, 43 minutes and 24 seconds; maximum height 115 meters; distance traveled 124.7 km. The plane, an aircraft heavier than air, finally won the battle over aircraft lighter than air.
As early as 1909, Wilbur Wright opened a pilot school in southern France, which was attended by students from all over Europe, and the Technical High School in Munich awarded the title of honorary doctors to the brothers Wilbur and Orville.
Author: Nebojsa Djumic
Publisher: Poste Srpske a.d. Banjaluka