Edition
Title:: Sport
Date of Issue: 21.09.2020.
Author: Nebojsa Djumic
Type edition: commemorative
Printing techniques: multicolour offset
Sheet: block 
Paper: muflep 100g
Printing House: Blicdruk, Sarajevo
Motive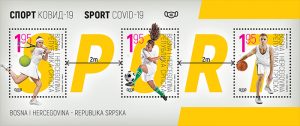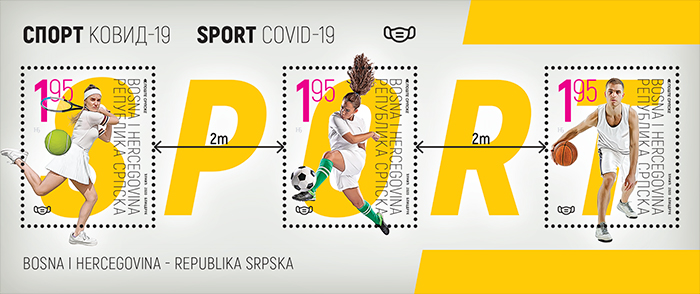 Motive: sport
Каталошки број: 849, 850, 851
Perforation: 13 3/4
Face value: 5.85 BAM
Quantity: 15 000
FDC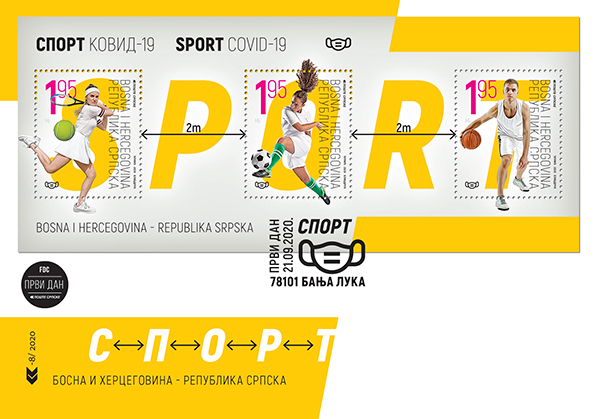 Poste Srpske were ready to follow the Summer Olympic Games with this year's postage stamp "Sport", but what no one could even dream that the "sport has stopped". The Summer Games will be canceled for the first time in history.
What brought together people around the world this year under the name Korona put in quarantine everything, including the sport itself.
The world of sports is currently in great anticipation. Many competitions due to this virus have been postponed or suspended.
This year, 2020, was supposed to be a great sports year. The program included European and world championships in many sports, world cups and important matches, and the Old Continent was looking forward to the European Football Championship. And that's not all, the EURO was followed by something even bigger - the biggest sporting event in the world, the Olympic Games in Tokyo.
Sports fans have been looking forward to the great 2020, and now they have been waiting for a year. What was supposed to be this summer has been carried over to next year. Some competitions have been postponed until further notice, some irrevocably crossed. The corona crept into every part of the world and blocked us all together.
This situation is not new in the history of sports, and so far there have been cancellations or prolongations of major events.
The sport was completely stopped during the First, especially the Second World War, it was stopped by SARS, also a disease caused by a virus. But the situation has never been as dramatic as it is now.
He overcame the sport of many difficult moments, survived wars, various epidemics and pandemics, but the important thing, there was always a sequel and the sport came out of everything as a winner.
Protect yourself and others, but live the sport within the limits of what is allowed - move, run, ride a bike…, and all the games unplayed, the competitions that the competitors were looking forward to, we will watch, hopefully soon, with even more zeal.
Author: Nebojsa Djumic
Publisher: Poste Srpske a.d. Banjaluka