Edition
Title:: Gastronomy
Date of Issue: 19.11.2020.
Author: Nebojsa Djumic
Type edition: commemorative
Printing techniques: multicolour offset
Sheet: 8+2
Paper: muflep 100g
Printing House: Blicdruk, Sarajevo
Motive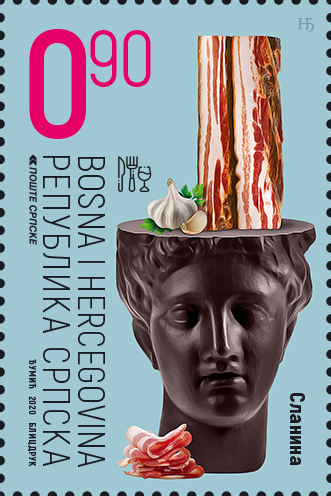 Motive: bacon, garlic, statue
Catalogue no.: 836
Perforation: 13 3/4
Face value: 0,90 BAM
Quantity: 15 000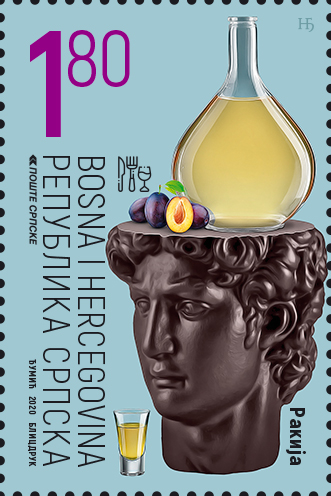 Motive: brandy, plum, statue
Catalogue no.: 837
Perforation: 13 3/4
Face value: 1.80 BAM
Quantity: 15 000
FDC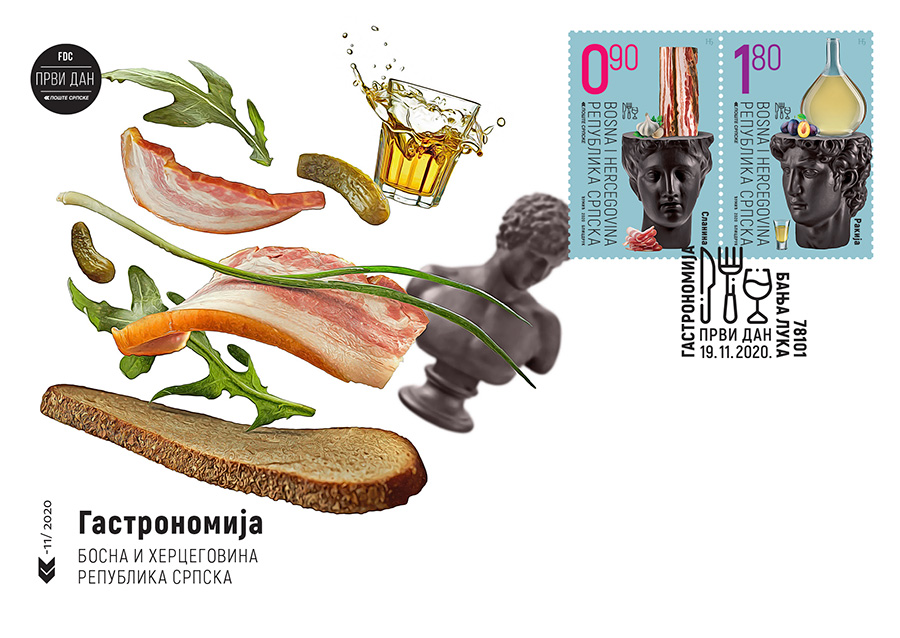 Gastronomy or gastrology encompasses everything related to cooking, cooking skills and in this regard, in a broader sense encompasses gourmet delicacy, sweetness, and in the broadest sense the connection between culture and food, i.e. the art of nutrition, culinary art.
Gastronomy is an interdisciplinary field, as the preparation, decoration, display and setting the food is often accompanied by music, dance, fine arts, but also has points of contact with chemistry, biology, physics, mathematics, agronomy, as well as anthropology, history, philosophy, psychology, sociology. The inhabitants of our region enjoy preparing and consuming food, often making traditional specialties according to old family recipes that are passed down from generation to generation.
On the tables of our people is, of course, bacon.
 Bacon is definitely a food that is worth having always in the fridge. This dried meat product made of smoked and salted pork will give a "soul" to almost every dish.
Smoked, cooked, fried, baked, served for breakfast, lunch or dinner, as a cold cuts and addition to dishes, with its saltiness and smoky taste it has crept into almost all cuisines of the world.
According to some research, if eaten in moderation, bacon can have a positive effect on health.
Alcoholic beverages are also indispensable in our kitchen, primarily traditional brandy - plum brandy.
Plum brandy is a type of fruit brandy. It is a colorless or yellowish, strong alcoholic drink, which is obtained by distilling boiled plum sticks.
The process of "roasting" brandy over time took on the character of a tradition. Brandy is a drink that is served daily and on special occasions: at collective ceremonies, various types of receptions, business meetings, and it is indispensable in all customs of the annual and life cycle. During the process of "roasting" brandy, the gathering of male family members, friends and neighbors is characteristic.
While drinking brandy, toasts are said while expressing the best wishes ... "CHEERS" !!!
Author: Nebojsa Djumic
Publisher: Poste Srpske a.d. Banjaluka