Edition
Title::50 Years of Museums Semberija and Gradiska
Date of Issue:21.02.2020.
Author:Nebojsa Djumic
Type edition:commemorative
Printing techniquesmulticolour offset
Sheet:8+2
Papermuflep 100g
Printing House:Forum, Novi Sad
Motive

Motive:bronze statuette
Catalogue no.:813
Perforation:13 3/4
Face value:0,,90 KM
Quantity:15.000

Motive: Cyrillic inscription
Catalogue no.:814
Perforation:13 3/4
Face value:0.90 BAM
Quantity:15.000

FDC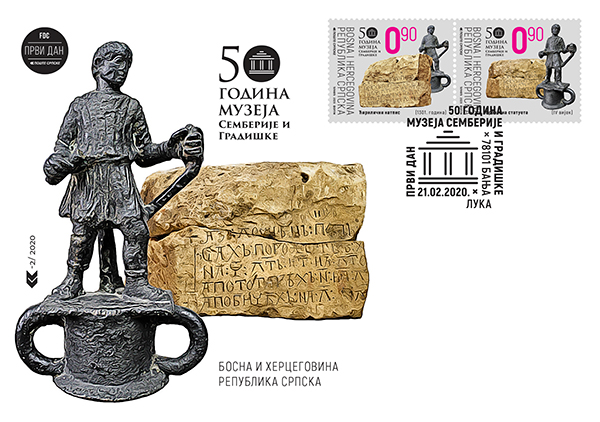 This year the Semberia Museum and the Gradiska Heritage Museum mark a significant anniversary - 50 years of their existence.
The Semberija Museum in Bijeljina was created from the Semberija Museum Collection, founded on October 28, 1970. Since 1972, the Museum Collection has begun a major action of collecting archaeological, ethnological and historical material, in which residents of Semberia and the region of Podmajevica participated massively over the next decade. Particular attention was paid to the collection of movable cultural assets and the traditional life and culture of the people of the Semberija-Podmajevica region and the town of Bijeljina from the first half of the 20th century. The Semberia Museum is the central regional museum institution of Semberia and contains three permanent exhibitions, archeological, ethnological and historical, with over 10,000 exhibits.
The permanent museum exhibit "Roads of Victory" was opened on September 19, 1970, and renovated and supplemented in 2015, it is taken as the beginning of the museum in Gradiska. The Department of History deals with the archiving of historical material from the Austro-Hungarian and Kingdom of the Serbs, Croats and Slovenes from the area of the Bosnian-Herzegovinian district. In addition to frequent presentations of its research through visiting exhibitions and catalogs, the museum formed a permanent archeological exhibit in 2016 under the name: "The archeological treasure of the municipality of Gradiska - from the Neolithic to the end of the Middle Ages". The largest systematic research was carried out by the museum in the Lower Valley, the Cultural - Historical Complex of the Monastery - Karanovac and the Early Byzantine town of Balkis in Bakinci. There are currently about 4,500 museum objects in the museum.
The museums presented themselves with a Roman bronze statuette, the site of Amajlija, IV century (Museum of Semberia) and the Cyrillic inscription, the site of the Monastery in Upper Kievci, 1301.
Author: Nebojsa Djumic
Publisher: Poste Srpske a.d. Banjaluka
Cooperation: Semberia Museum and the Gradiska Heritage Museum