Edition
Title::125 Years of Cinematography
Date of Issue:19.03.2020.
Author:Nebojsa Djumic
Type edition:commemorative
Printing techniques:multicolour offset
Sheet:8+1 (3×3)
Paper:muflep 100g
Printing House:Forum, Novi Sad
Motive

Motive:brothers Lumiere
Catalogue no.:815
Perforation:13 3/4
Face value:1,95 KM
Quantity:15 000 000
FDC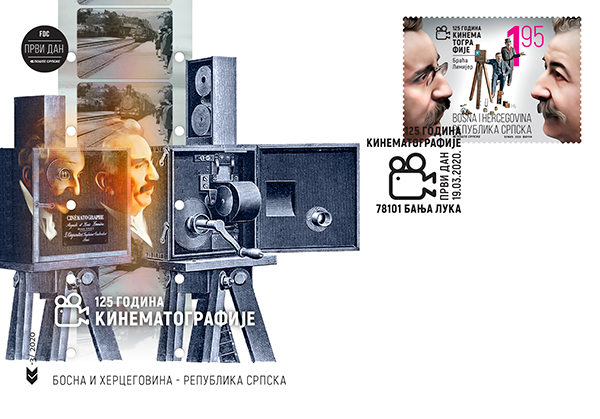 125 Years of Cinematography
The first film screening was organized on December 28, 1895 at the Parisian restaurant "Gran Cafe", which started the world cinematography, and the credit goes to the brothers Louis and Ogista Limiere.
In fact, the first "moving pictures" were short documentaries that featured - a worker leaving the factory, a train station full of people and a chasing train.
The Limiere brothers were French chemists, industrialists, inventors and authors of the first film ever made in history.
Louis developed a method for making photographic plates in 1882, and by 1894, a factory founded by the brothers, which produced photographic material - paper and chemicals - produced 15 million plates each year.
The Limier Brothers stand out for their invention - a portable camera that has a manual control that made it possible to shoot portraits, scenes from life.
One year after the first screening of short documentaries, the Limiere brothers made more than 40 films, shooting daily life in France. They also created the first movie magazines and sent teams to shoot new material around the world. With their films, they also laid the foundations for certain film genres.
The Limiere brothers made a screening and the first film comedy, which is also the first narrative film, called "The Sprinkler Sprinkled".
The first screening of the films left the audience speechless, while one of the reporters then noted that it was "undoubtedly the strangest invention in our era".
Author: Nebojsa Djumic
Publisher: Poste Srpske a.d. Banjaluka