Edition
Title::World IBD Day
Date of Issue:18.05.2019.
Author:Samir Hadzic
Type edition:commemorative
Printing techniques:multicolour offset
Sheet:8+1
Paper:muflep 100g
Printing House:Forum, Novi Sad
Motive

Motive:tree of life
Catalogue no.:785
Perforation:13 3/4
Face value:1.80 BAM
Quantity:10 000

FDC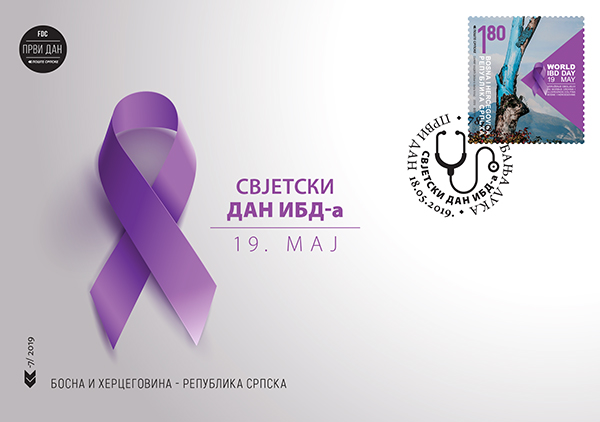 IBD English abbreviation (Inflammatory bowel disease) is an inflammatory bowel disease as a community of terms that urinate into the ulcerative colitis and Chron's disease, a distortion of unknown causes that have been subjected to autoimmune inflammatory processes in the digestive tract, a chronic character, found in a thin and thick bowel.
The main forms of inflammatory bowel disease are: Crohn's disease and ulcerative colitis. The main difference between these diseases is the location and nature of inflammatory changes in the digestive tract. The main feature of Crohn's disease is the transmurality of inflammation that can affect any part of the digestive tube as opposed to ulcerative colitis in which inflammation is limited only to the mucous membrane of the column, and the changes are in continuity from the rectum toward the proximal parts of the bowel.
Chronic illness and ulcerative colitis are associated with various extra-intestinal complications such as arthritis, psoriasis, iritis, uveitis, liver problems, etc. Many of these complications are the result of aggressive drugs used in the treatment of the underlying disease, primarily corticosteroids and immunosuppressants. Symptoms are similar for ulcerative colitis and Crohn's disease-swelling, stomach pain, blood and mucus in the stool. These symptoms can break out, then pass with remissions that sometimes last for years. Bowel pain can also lead to serious conditions, such as abscesses, or perforation of the intestinal wall.
With this postage stamp, Poste Srpske and the other two postal operators of Bosnia and Herzegovina, with the cooperation of the Association of Morbus Crohn's ulcerative colitis patients, want to get to know the general public about the status of patients with IBD in the area.
Author: Samir Hadzic
Publisher: Poste Srpske a.d. Banjaluka
Cooperation: Association of Morbus Crohn's ulcerative colitis patients