Edition
Title::Parental House Iskra
Date of Issue:11.09.2019.
Author:Nebojsa Djumic
Type edition:commemorative
Printing techniques:multicolour offset
Sheet:8+1
Paper:muflep 100g
Printing House:Forum, Novi Sad
Motive

Motive:child, iskra, Parental House Iskra
Catalogue no.:823
Perforation:13 3/4
Face value:0.90 BAM
Quantity:10 000
FDC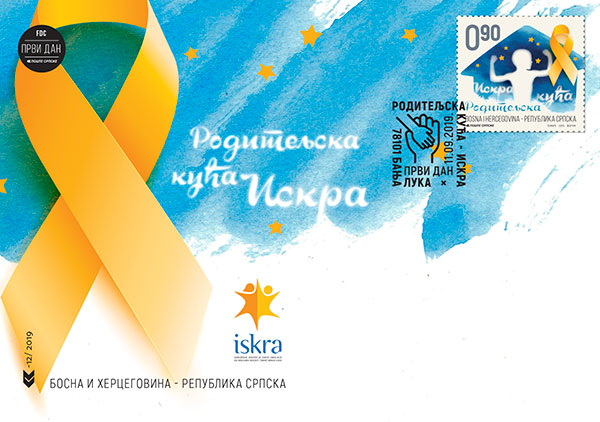 The Parental House in Banja Luka was built on the initiative of the Parents' Association of Children with Malignant Diseases ''Iskra'' and is used for free accommodation for parents and children treated at the Department of Hematology oncology for malignant diseases. It started working in September 2016, and to date has housed more than 86 families from all over the Republic of Srpska.
Association of parents of children with malignant diseases "Iskra" was founded in October 2014 with the vision that children have the right to treatment, healing and life, and parents have an irreplaceable and significant role in the life of their children and the right to actively participate in their treatment.
We believe that no child or family should face cancer alone and that every child and family should have a quality life despite the illness. Accordingly, we strive to help children and their families in the most difficult times in the most difficult moments when faced with a diagnosis of malignancy, during healing and after healing.
Through our work, we strive to inform and empower parents and children, but also to provide all people with information about malignant diseases in children and how they can help.
Author: Nebojsa Djumic
Publisher: Poste Srpske a.d. Banjaluka
Cooperation: Parents' Association of Children with Malignant Diseases ''Iskra'', Dijana Beric