Edition
Title::150 Years since the Birth of Mahatma Ghandi
Date of Issue:02.10.2019.
Author:Nebojsa Djumic
Type edition:commemorative
Printing techniques:multicolour offset
Sheet:8+1
Paper:muflep 100g
Printing House:Forum, Novi Sad
Motive

Motivе:Mahatma Ghandi
Каталошки број:825
Perforation:13 3/4
Face value:1.95 BAM
Quantity:15 000

FDC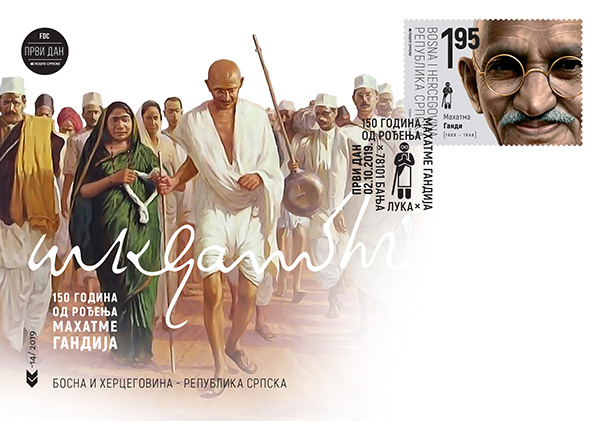 Mohandas Karamchand Gandhi, better known as Mahatma Gandi (mahatma - good soul) was an Indian thinker who successfully led the movement for the liberation of India from British rule and popularized nonviolent methods in pursuing political goals.
Born in India, he was educated as a lawyer in Britain at a young age and later lived in South Africa where the civil rights movement of Indian settlers began. In 1914, he returned to India, where after the First World War he joined the Indian National Congress and became one of its leaders. Using his charisma, he transformed the organization into a mass movement and launched a series of nonviolent actions aimed at making India independent from British rule. He was arrested on several occasions, but his efforts finally came to fruition in 1947 when the United Kingdom decided to grant India independence.
Gandhi, on the other hand, was far less successful in efforts to preserve the unity of Hindus and Muslims, which is why India was divided into two states after the British departure, and neither did its calls for non-violence prevent bloody religious conflicts. Gandhi himself fell victim to the assassination at the hands of radical Hindu Nathuram Vinayak Godse.
He will always be remembered as a freedom fighter who, through his philosophy and principles, not his weapons, has managed to fight for the freedom of his country and to show the world that many things can be resolved peacefully. He will be remembered for his famous statements: '' Be the change you want to see in the world '' and '' Live as if you were going to die tomorrow and learn as if you were going to live forever ''.
Author: Nebojsa Djumic
Publisher: Poste Srpske a.d. Banjaluka