Edition
Title::Nature Protection
Date of Issue:09.10.2018.
Author:Milos Djurovic
Type edition:commemorative
Printing techniques:multicolour offset
Sheet:8+2
Paper:muflep 100g
Printing House:Forum, Novi Sad
Motive

Motive:Iris reichenbachii Heuff
Catalogue no.:782
Perforation:13 3/4
Face value:1,70 BAM
Quantity:15 000

Motive:Pimpinella serbica
Catalogue no.:783
Perforation:13 3/4
Face value:1,70 BAM
Quantity:15 000
FDC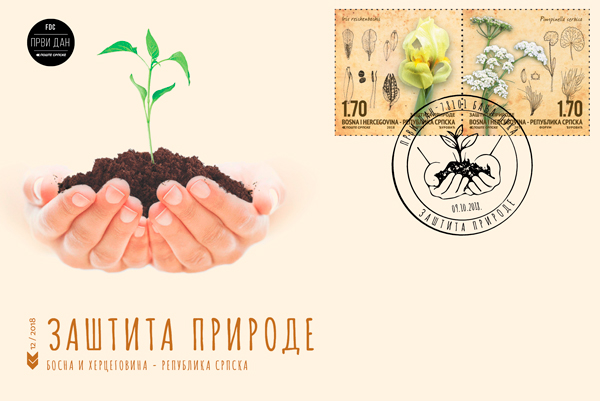 Wild species that are endangered or can become endangered, which have special significance from the genetic, ecological, ecosystem, scientific, health, economic and other aspects, are protected as strictly protected wild species or protected wild species.
One of the first steps in the process of protecting endangered species is their recording and assessment of endangerment. For this purpose, the Red Lists of Endangered Species are produced which represent an indication of the degree of endangerment of certain species in a given area. These lists are not invariable, but are continuously revised and updated in line with new scientific knowledge and changes in endangered species status.
Pimpinella serbica (Vis.) Bentham & Hooker fil. ex Drude or Serbian pancicija is an endemic species with sites in Serbia, Bosnia and Herzegovina, Montenegro, Macedonia and Albania.
It is a perennial plant with an upright, bare, in the upper part of the branched stem. The root of this plant is thick. Sheets are alternately arranged on long stumps. The lower ones are complete, on the basis in the shape of heart, and the upper deep cut, even to the base, and are seen as ending cuts that make the Serbian pancake easy to recognize. Bipolar, small, white flowers are grouped into shields. The fruit is an egg, usually flattened. The plant blooms in June and July.
The species was described by the botanist Roberto de Visiani in 1858 on mountain Javor in Serbia and named Pancicia Serbica by the famous Serbian botanist Josif Pancic.
It inhabits the meadows and forest clearing of the subalpine and alpine belt. It can be found in Treskavica, Zelengora, Jahorina, Ljubisnja, Volujak, Maglic, Lelija and Trebevic.
Iris reichenbachii Heuff, is a perennial plant, high between 10 and 35 cm with thick underground rhizome. It has real or mildly sickle-leafed leaves, pointed at the tops. The tree carries one or two flowers, yellow, purple or blue. The flowers are bipolar and slightly scented. The fruit is a tuber that opens longitudinally and has many seeds. The plant blooms in May and June.
It is known as Bosanska perunika, this species has an endemic character and is widespread on the Balkan peninsula. It can be found on dry meadows and pastures with shallow skeletal soil. In our country it can be found in Trebevic, Orjena, Jahorina, Velezi, Baba, and in the surroundings of Rogatica, Vlasenica and Kalinovik.
In thе literature, more synonyms such as the Iris balkana, Iris bosnica or the Iris serbica can be found Iris balkana, Iris bosnica or Iris serbica as described by Josif Pancic.
Author: Milos Djurovic
Publisher: Poste Srpske a.d. Banjaluka
Cooperation: Republic Institute for the protection of the cultural, historical and natural heritage of the Republic of Srpska, Sara Todorovic, Master of Science in Biology