Edition
Title::Europa - Bridges
Date of Issue:27.04.2018.
Author:Djurovic/Kuruzovic
Type edition:commemorative
Printing techniques:multicolour offset
Sheet:8+1 and booklet
Paper:muflep 100g
Printing House:Forum, Novi Sad
Motive
Motive:Bridge in Visegrad
Catalogue no.:760
Perforation:13 3/4
Face value:1.70 BAM
Quantity:20 000

Motive:Bridge in Trebinje
Catalogue no.:761
Perforation:13 3/4
Face value:1,70 BAM
Quantity:20 000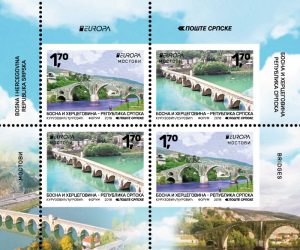 Motive:Bridges in Visegrad and Trebinje
Catalogue no.:762
Perforation:13 3/4
Face value:6,80 BAM
Quantity:10 000
FDC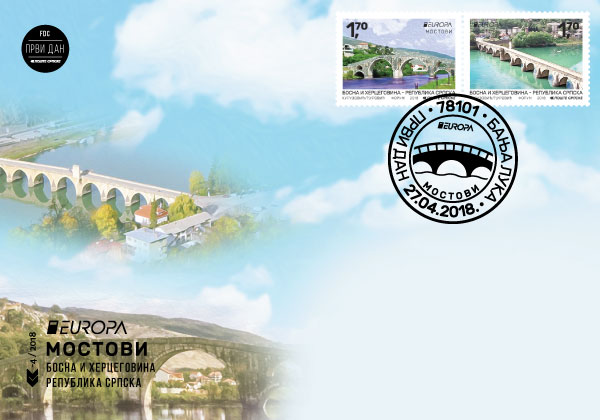 The bridge across the Drina in Visegrad represents the masterpiece of the bridge building. It was built in the period from 1571 to 1577, according to the wishes of Mehmed-pasha Sokolovic. Mehmed-pasha Sokolovic was born in Sokolovici near small place Rudo, where he was separated from his parents as a boy and taken to Turkey. At that time, there was a custom known as "Blood Tax", as a form of regular taxation in the Ottoman Empire, which involved the forcible transfer of Christian children to Turkey where they were converted to Islam and educated in their military schools where they became Janizary, elite soldiers of Turkish Empire. He was a great vizier at the time of the three Sultans.
The construction of the bridge was entrusted to Kodza Mimar Sinan, one of the greatest architects of his time.
The uniqueness of the Visegrad bridge is mainly in its form - a sudden folded construction consisting of a section with eleven arches that bridges the Drina. The total length is 179.5 m, height above the normal water level of the river 15.40 m and the width of the bridge is 6.30 meters. The bridge witnesses of important cultural exchanges between different civilizations.
It was enrolled at the UNESCO World Heritage List in 2007, and the novel by Ivo Andric "Bridge on the Drina", for which the writer received the Nobel Prize, is based on the history of this bridge.
Arslanagic Bridge is the most famous monument from the Turkish period in Trebinje and has a very important place in the Balkan architecture of the 16th century. This bridge, as an endowment for his dead son, was built by Mehmed-pasha Sokolovic in 1574 during the Turkish occupation.
The stone bridge is 92.25 meters long, the width of the driveway is 3.60 to 4 meters. It has seven arches, and at its highest points it rises 15 meters above the water level.
The bridge was of great importance, connecting central Bosnia and today's Herceg Novi, and through it all the traffic went through.
When Turks were deported from Herceg Novi in 1687, many Turkish families moved from this city to Trebinje. Among them there was a certain Arslan-aga who was given the right to charge the bridge over the bridge on Trebisnjica. According to him, since then, the bridge is called the Arslanagic bridge. It was proclaimed a national monument of Bosnia and Herzegovina.
A little later, in 1993 the name of the bridge was changed to the Perovic bridge.
Author: Tanja Kuruzovic and Milos Djurovic
Publisher: Poste Srpske a.d. Banjaluka