75 Years of battles at Sutjeska and Neretva
Edition
Title::75 Years of battles at Sutjeska and Neretva
Date of Issue:05.11.2018.
Author:Nebojsa Djumic
Type edition:commemorative
Printing techniques:multicolour offset
Sheet:4х2
Paper:muflep 100g
Printing House:Forum, Novi Sad
Motive

Motive:Monument at Neretva
Catalogue no.:790
Perforation:13 3/4
Face value:1,70 BAM
Quantity:15 000

Motive:Monument at Sutjeska
Catalogue no.:791
Perforation:13 3/4
Face value:1,70 BAM
Quantity:15 000

FDC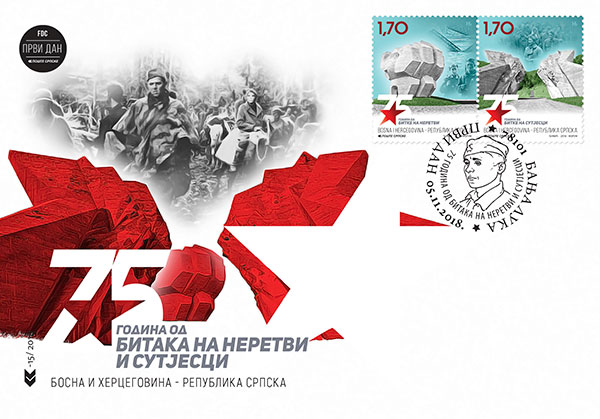 This year, it is full 75 years since the great battles on Neretva and Sutjeska, and Poste Srpske honored the numerous victims of the past war with this postage stamp.
The Battle at Neretva, the Battle for the Wounded or the Fourth Enemy Offensive is a name that broadly covers the military operations of "Weiss I", "Weiss II" the YAiF (Yugoslav Army in the Fatherland) operation for the destruction of the NLAY (National Liberation Army of Yugoslavia) with the cooperation of the Italians, as well as the offensive NLAY in the Neretva river basin, and then in eastern Herzegovina from January 20 to April 1, 1943. One of the common names is the battle for the wounded, because by the clash of operational circumstances, the Main Operational Group of the Supreme Staff of the NLAY was forced to take with them and central hospital, which has led to a number of dramatic battles to rescue the wounded. The battle ended with a clear victory of the NLAY, which managed to realize the essence of its offensive plan.
The Battle at Sutjeska or the Fifth Enemy Offensive is the name given in the Yugoslav historiography as the name for the Schwarz operations (German Schwarz, "black") of German troops in the summer of 1943. The aim of this operation was to break down groups of resistance, both current and potential, and firmly taking the Adriatic hinterland, which became important in the performance of the Allies in the Mediterranean. The NLAY forces have been detained in a small area, continuously beaten with concentrated artillery and airborne forces. They suffered great losses, but they proved their fighting strength and managed to break through the ring and cross into the counteroffensive in eastern Bosnia. This was undoubtedly, both by the volume and by the number of dead soldiers, the largest until then the operation in the territory of Yugoslavia.
This series of operations ("Weiss I", "Weiss II" and "Schwarz") represents the transition between the pursuit of guerrilla groups, which was the prevailing form of action of 1941 and 1942, and an open maneuvering war that occurred with the arrival of the Second Armored Army in the territory Yugoslavia in August 1943.
These battles have become symbols of the exceptional sacrifice of our people, courage and moral firmness in the most difficult temptations.
Author: Nebojsa Djumic
Publisher: Poste Srpske a.d. Banjaluka