Edition
Title::50th International Handball Tournament - Doboj
Date of Issue:05.07.2018.
Author:Djurovic/Kuruzovic
Type edition:commemorative
Printing techniques:multicolour offset
Sheet:block
Paper:muflep 100g
Printing House:Forum, Novi Sad
Motive

Motive:details from the game
Catalogue no.:754
Perforation:13 3/4
Face value:5,40 BAM
Quantity:15 000
FDC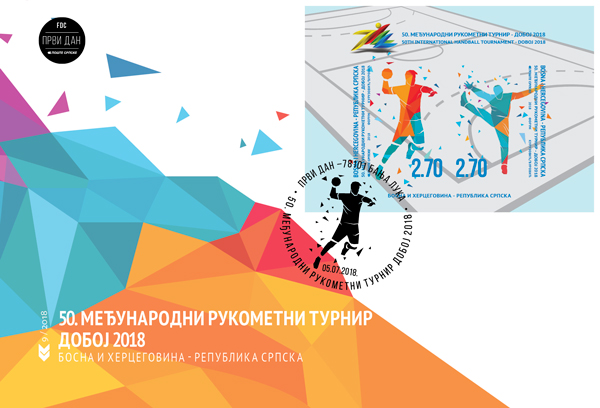 This year the Tournament turns forty-eight. A magnificent sports event, from a small local handball tournament, at the very beginning grew into one of the highest quality and most appreciated handball events of its kind in the world. The Doboj Handball Tournament has become a place in the past decades of the best clubs and masters of handball games and the place where the best and most beautiful handball is played.
At one point, stopped due to a terrible war conflict, in 1996, the Tournament continued its successful continuity with the desire of the host to again become the hub of the best clubs and masters of handball and to take on the glory of the prewar years when we did not feel any obstacles to any political or national, intolerance, because sport does not know such obstacles, it is simply a universal international creation with attributes of peace and friendship among nations.
If for nothing else, than it is for such names as Monpellier, Ciudad Reala, Nordhorna, Chehovski Medvedi, Steaua, Gumersbah, Dukla, CSKA, Barcelona, Lugia, Besprem, MAI, Partizan, Pelister, Crvena Zvezda, Atletico, Metaloplastika, Kretej, Zagreb, Borac and many other world champions that the handball world should bow with ,,hat down" before all the known and unknown heroes of the Doboj organization that has succeeded in making this event so magnificent. And the names of handball giants and their trainers remain in gold letters in the eternal book of Doboj spectacles.
The name of Doboj with the sign of the Tournament for many years raised up in more then fourty state borders, on all handball meridians. In all of the past years there has not been any single stain or an unaccountable incident. Handball players meetings were suitable to their honor and name, regardless of political or any other affiliation, regardless of the country or continent from where handball players came from. And people from Doboj, as a true hosts, filled the hall in the days of the Tournament and welcomed dear guests, admired their masters and sports sizes.
So it will be these and all the next years, because we just love people, we love sports.
Author: Milos Djurovic and Tanja Kuruzovic
Publisher: Poste Srpske a.d. Banjaluka
Cooperation: Organizational Committee of the International Handball TV Tournament of Champions – Doboj