Edition
Title::350 Years from the Birth of Sava Vladislavic Raguzinski
Date of Issue:26.10.2018.
Author:Nebojsa Djumic
Type edition:commemorative
Printing techniques:multicolour offset
Sheet:8+1
Paper:muflep 100g
Printing House:Forum, Novi Sad
Motive

Motive:Sava Vladislavic Raguzinski
Catalogue no.:767
Perforation:13 3/4
Face value:0.90 BAM
Quantity:15 000
FDC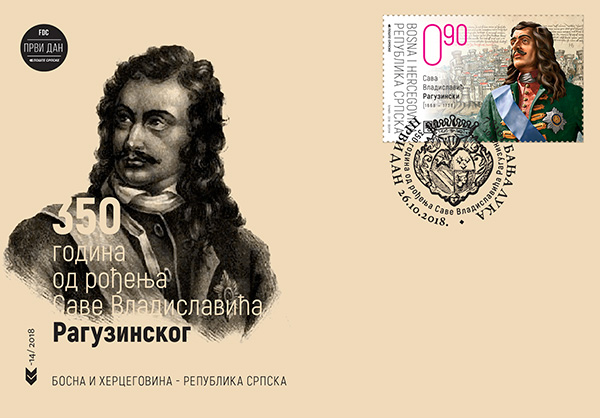 As much as we like to be proud of the famous ancestors, we do not do much to keep the memories on them and transfer them. We heard a little about Count Sava Vladislavic Raguzinski (1668-1738), from Herzegovina, Jasenik near Gacko, who at the end of the 17th and early 18th century was one of the most important Serbs of that time.
Count Vladislavic led the foreign policy of a powerful Russian empire and founded its intelligence service, delimited China and Russia, he was the man of the greatest trust of Emperor Peter the Great and his wife Katarina the Great, and all that time he was trying to help the brothers enslaved by the Ottomans.
Sava was born in a respectable Serbian family, and after Turkish robbery of property, he and his father moved to Dubrovnik. He obtained higher education there, and he also studied in Spain and France. He started trading in Dubrovnik and Venice, and then in Constantinople, where he, through the patriarch of Jerusalem, Dositej, established close links with the Russian mission that opened the way to him to the imperial court.
As the founder of the modern Russian intelligence service, he will definitely determine his position as a decisive factor in the victory of the Russian emperor over the Swedish King Charles the Twelve.
He was one of the most deserving people for the signing of the Treaty of the Pruth in 1711, which ended the Russian-Turkish war. The extent to which he had influence was also indicated by the fact that in the peace agreement with imperial, his signature also stands.
One of his greatest achievements was Sava`s departure to China in 1725, where he became the emperor minister of empress Catherine the Great. The three-year mission ends with the signing of the Russian-Chinese agreement by final determination of the border between these two empires, in the length of about 6,000 kilometers.
About the significance he had, speaks also the place where he was buried – he rests in the Pantheon of Russia, in the Lavra Alexander Nevsky Blessing Church in St. Petersburg, where the closest relatives of the emperor were buried, among them is brother of the Peter the Great.
Author: Nebojsa Djumic
Publisher: Poste Srpske a.d. Banjaluka