25 Years of Djurdjevdan Festival
Edition
Title::25 Years of Djurdjevdan Festival
Date of Issue:04.05.2018.
Author:Radumilo/Bajic
Type edition:commemorative
Printing techniques:multicolour offset
Sheet:8+1
Paper:muflep 100g
Printing House:Forum, Novi Sad
Motive

Motive:број 25
Catalogue no.:764
Perforation:13 3/4
Face value:0.90 BAM
Quantity:10 000

FDC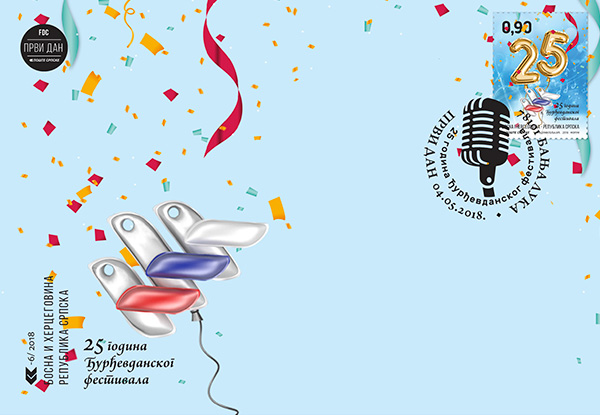 Djurdjevdan Festival of ChildrenиSongs is an international music event held since 1994. For the 24 year of its existence, more than 400 new children songs were written for the Festival. It is considered to be one of the most respected festivals of children songs in the region.
The long tradition, professional selection, modern scenography, significant media attention, educational and cultural aspects, international cultural cooperation and good organization, are just some of the elements that justify such claims. Djurdjevdan Festival has greatly exceeded the goal of Radio Television of Republic of Srpska, as the organizer, and has become a recognizable brand of children music.
The Festival promotes the current musical trends and contemporary music production for children. The aim of the Festival is to popularize the music creativity of children, encouraging authors and musical talents and preservation of children songs from the commercialization and kitsch that is increasingly present on the music scene.
Children from many countries, like Russia, Romania, Italy, Japan, Canada, Belarus, Ukraine, Hungary, Malta, Poland, Bulgaria, Serbia, Macedonia, Montenegro, Slovenia, Croatia and Bosnia and Herzegovina participated at the Festival.
For a quarter of a century, we are in charge of children's smile.
Authors: Ognjen Radumilo and Ljubisa Bajic
Publisher: Poste Srpske a.d. Banjaluka
Cooperation: Radio and television of Republic of Srpska