150 Years from the Birth of Aleksa Santic
Edition
Title::150 Years from the Birth of Aleksa Santic
Date of Issue:25.05.2018.
Author:Nebojsa Djumic
Type edition:commemorative
Printing techniques:multicolour offset
Sheet:8+1
Paper:muflep 100g
Printing House:Forum, Novi Sad
Motive

Motivе:Aleksa Santic
Каталошки број:765
Perforation:13 3/4
Face value:0.90 BAM
Quantity:15 000
FDC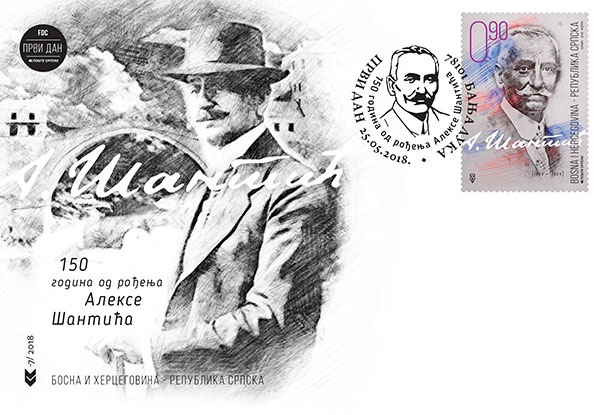 Aleksa Santic (1868 - 1924) was a Serbian poet and academician, born in Mostar, where he spent most of his life and poetry creativity. Having lived in a merchant family, the people did not have enough understanding for his talent. He graduated in the trade school in Trieste and Ljubljana, then returned to Mostar. He was «in the beginning rather withdrawn,» he took care of books in his father's shop and read «the papers and books he could find in Mostar». A few years later he began his literary and social work.
He created the greatest works in the late 19th and early 20th century. His role models were Serbian writers Vojislav Ilic and Jovan Jovanovic Zmaj, while Heinrich Heine was the most respected of foreigners. In his songs there is emotional pain, patriotism, love yearning and defiance for the nationally and socially endangered Serbian people.
In 1902, he went to Geneva, but he barely «spent three weeks there; in the naive song «I Can not Be Here» he cried out loudly that he could not tolerate a strange land. « During the annexation crisis, he, with Svetozar Corovic and Nikola Kasikovic, had fled to Italy and put himself available for the Serbian government, as will be again in 1912 at the beginning of the Balkan War. « In 1913 the Austro-Hungarian authorities expelled him from Mostar. During the First World War, he was imprisoned as a hostage and «twice repeatedly accused'' because of his songs. After the end of the war, he was elected as a member of the Serbian Committee in Mostar.
During his lifetime, literary criticism highlighted two «basic and strong» feelings in his poetry. The first feeling is «a burning love for his people». From the beginning, this feeling occurs mainly in three ways: as a pride because of his heroic past, as a protest against the sad present and as a belief in a better future that will come through the struggle and victory that will represent the resurrected past.
Author: Nebojsa Djumic
Publisher: Poste Srpske a.d. Banjaluka