Edition
Title::Culture
Date of Issue:05.04.2017.
Author:Bozidar Dosenovic
Type edition:commemorative
Printing techniques:multicolour offset
Sheet:8+1
Paper:muflep 100g
Printing House:Forum, Novi Sad
Motive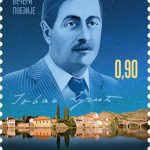 Motive:Jovan Ducic
Catalogue no.:717
Perforation:13 3/4
Face value:0.90 BAM
Quantity:15 000
FDC
Jovan Ducic was born in Trebinje in February 15, 1874. He was Serbian and Yugoslav writer, poet and diplomat. He was one of the most important poets of modernism and the most important Serbian poet. He was one of the founders of National Defence, a national non-governmental organizations in the Kingdom of Serbia.
The first collection of poems Ducic published in Mostar in 1901, by the Mostar ''Zora'', then another in 1908 in Belgrade in the edition of the Serbian Literary Association. He wrote a lot in prose: a few literary essays and studies about writers, Treasure of the Emperor Radovan and poetic letters from Switzerland, Greece and Spain.
He reveals a completely new motives in our poetry, long unsuspected, a rare feeling, bizarre, sophisticated. Even personal moods, its eroticism for example, he will not say simply or allow it to look ordinary. He has a double fear: the vulgarity of the thoughts and feelings and vulgar expressions. The strength and beauty of his poetry is the expression. He is a poet understood as a "cabinet worker and craftsman learned the hard work rhyme and rhythm."
He was elected a corresponding member of the Serbian Royal Academy, as a regular member he was elected in 1931.
The most important cultural event during the year in his hometown of Trebinje were Ducic poetry evenings. On this occasion the city gather the most important personalities of the world of poetry from the region. The writer of the best works from the previous year is awarded by Ducic awards.
Jovan Ducic died on 7 April 1943 in the US city of Gary, Indiana.
Author: MA Bozidar Dosenovic
Publisher: Poste Srpske a.d. Banjaluka