Edition
Title:: 150 Years since the Birth of Piet Mondrian
Date of Issue: 09.12.2022.
Author: Bozidar Dosenovic
Type edition: commemorative
Printing techniques: multicolour offset
Sheet: 8+1
Paper: muflep 100g
Printing House: Blicdruk, Sarajevo
Motive
Motive: Piet Mondrian  
Каталошки број: 925
Perforation: 13 3/4
Face value:1.95 BAM
Quantity: 15 000
FDC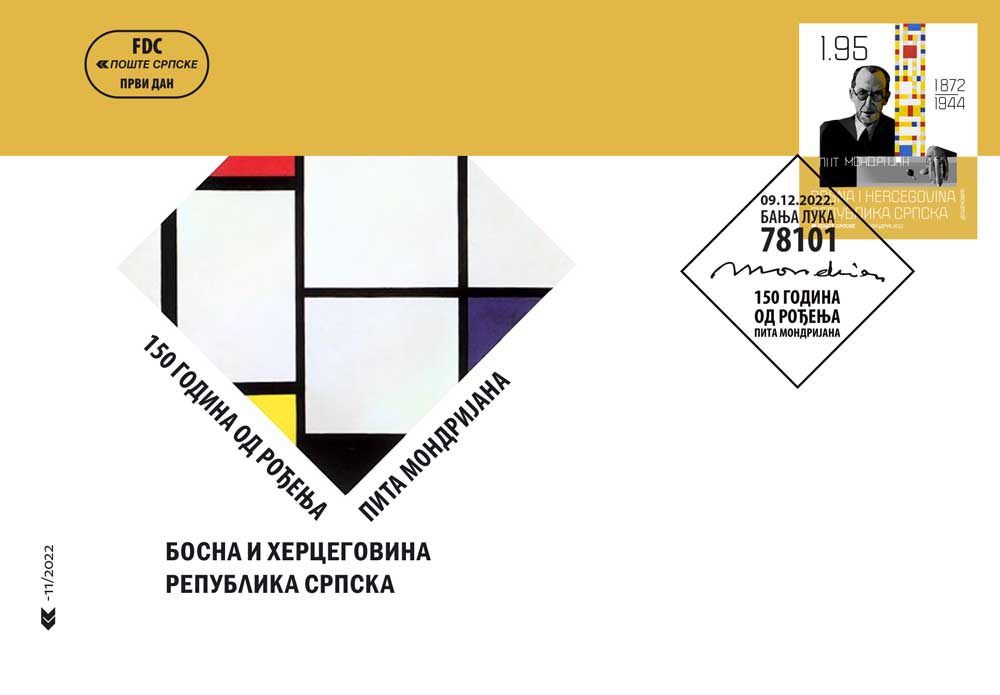 Art is higher than reality and has no direct connection with it. In order for man to approach the spiritual in art, reality is of little use to him, because reality is the opposite of the spiritual. We are in the presence of abstract art. Art should be above reality, because otherwise it would have no value for man.
This is the answer that Piet Mondrian gave about his art in 1914. This Dutch artist is one of the founders of the De Stiјl art movement in the Netherlands, and he developed a new form of abstract art called neoplasticism.
He was educated in Amsterdam and his first works are dominated by landscapes and representations typical of the Netherlands: windmills, rivers and fields. However, although these are naturalistic depictions, a clear influence of post-impressionism and Fauvism can be seen in his works. The further development of Mondrian's expression was significantly influenced by his stay in Paris. Here he meets the cubist works of Braque and Picasso, which is reflected in the use of gray and black colors and the increasing geometrization of painted motifs - this was the first step towards abstraction.
After Amsterdam, London and Paris, Mondrian left for New York where he would spend the last four years of his life. Mondrian loved the tempo, that is, the dynamism of the city: traffic, dance halls, jazz orchestras, the excitement brought by movement and constant change. He felt the need to transform these rhythms into pictures, in which the former black fields are replaced by complex waves of bright colors.
In recent years, the motifs of his paintings have been reduced to a minimum; finally his canvases contained several colored areas on a white background. In the canvases created in America, the characteristic black line disappears, which softens the general impression and achieves a more lively and cheerful rhythm of the surface.
His art is still reproduced in popular culture today: TV shows, music videos, sports equipment, music album photos, etc.
Author: MA Bozidar Dosenovic
Publisher: Poste Srpske a.d. Banjaluka