Edition
Title:: Famous People
Date of Issue: 07.09.2020.
Author: Nebojsa Djumic
Type edition: commemorative
Printing techniques: multicolour offset
Sheet: 8+1 
Paper: muflep 100g
Printing House: Blicdruk, Sarajevo
Motive
Motive: Florence Nightingale
Catalogue no.:821
Perforation: 13 3/4
Face value:1.95 BAM
Quantity: 15 000

Мотив: Јован Машин
Каталошки број: 820
Perforation: 13 3/4
Face value:1.95 BAM
Quantity: 15 000
FDC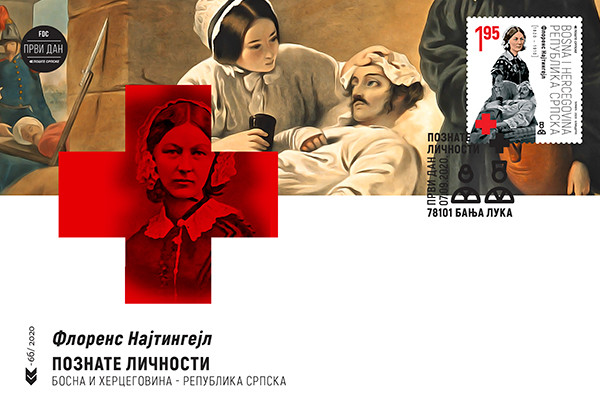 Florence Natingale was a founder of sorority, special discipline in the eye of medical deontology. She worked as a caregiver, organizer, researcher, reformer, writer and teacher.
She was born on May 12, 1820, in Florence, after which she was named. She is originally from a wealthy English family. As a bride, she had the opportunity to travel and get an education. She spoke seven languages, showing a preference for mathematics, especially statistics, but also for nursing. She nurtured relatives, servants, neighbors and visited the poor with her mother. Nursing skills were not required at that time. This job was devoid of social prestige and was mostly done by working-class women who found no other job opportunities. As such women were often notorious, parents opposed her decision to pursue such a job. However, she remained persistent in her intentions.
During the trip her parents sent her, she used the opportunity to visit hospitals and speak with experts. During 1849/50. she spent two weeks at the Deaconess Institution in Kaisersvert, Germany, where she learned the importance of order and discipline in health care facilities, which helped her to become the first manager of the Sick Misses Institution, where she worked from 1853 until the Crimean War of 1854.
With a group of nurses, she was called to Shkodra, where a military hospital for wounded and sick soldiers was formed. She immediately collected information about the hospital's sanitary conditions. She reported a lack of fresh air, impurity, overcrowding, which caused a high mortality rate of 42.7%. She then worked out a plan to change that, providing clean clothes and bedding, adequate food, determining the appropriate size of beds and the space between them. The reforms and measures in the health service and care of the wounded and the sick, which she established more than a century ago, are still in use today. She opened the first Nursing Service.
Author: Nebojsa Djumic
Publisher: Poste Srpske a.d. Banjaluka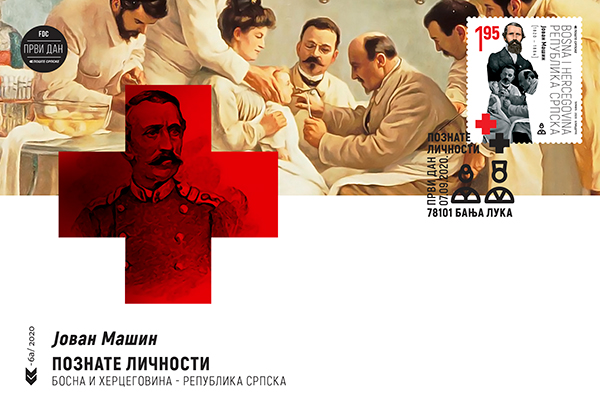 Jovan Masin was the court physician of Prince Mihajlo and King Milan Obrenovic, founder of the Serbian Medical Society, a member of the Society of Serbian Ceremonies and later of the Serbian Learned Society.
He was born on 14 July 1820 in Cerhenica (east of Prague) in the Czech Republic, as Jan Mashin. He completed high school in Prague, medical sciences in Vienna, master's degree in surgery in Pest, and master's degree in gynecology in Prague.
He was married to Barbora, born Vsetek and with him he had three sons and two daughters: Svetozar (engineer, first husband of the later Serbian Queen Draga), Alexander (leader of the plot in the May coup), Nicholas, Leposava and Poleksi.
At one time he was a city physician in Nimburk. On the advice of Jan Safarik, he arrived in Serbia in 1846. He started working in Valjevo. He has repeatedly participated in the control of bovine plague. In 1853 he transferred to the post of physicist of the city of Belgrade. That year he became a member of the Permanent Medical Commission. From 1859 to 1864 he was a Belgrade district physician.
During the bombing of Belgrade in 1862, he, together with Dr. Lindermeier, was tasked with devising a plan for preparations for the Belgrade war. He was the personal physician of Prince Michael and King Milan. He accompanied Prince Michael in 1867 as an advisor and member of the delegation on his journey to Constantinople on the return of the cities to Serbia. He is one of the 15 founders and the first vice president of the Serbian Pharmaceutical Society in 1872. He was appointed Chief Medical Officer in 1871 and in 1872 became Chief of the Military Hospital. As a chief of the Moravian Corps medical unit and with the rank of lieutenant colonel, he participated in the Second Serbian-Turkish War.
Author: Nebojsa Djumic
Publisher: Poste Srpske a.d. Banjaluka