Edition
Title:Cultural Heritage 
Date of Issue: 11.09.2020.
Author: Bozidar Dosenovic
Type edition: commemorative
Printing techniques: multicolour offset
Sheet: 8+2 
Paper: muflep 100g
Printing House: Blicdruk, Sarajevo
Motive

Motive: grass iva
Catalogue no: 843
Perforation: 13 3/4
Face value: 1.80 BAM
Quantity: 15 000

Motive: picking up grass iva
Catalogue no: 844
Perforation: 13 3/4
Face value: 0,90 BAM
Quantity: 15 000
FDC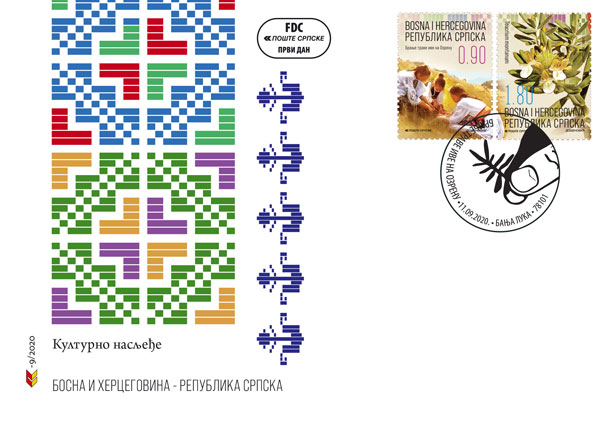 Ozren Mountain and ethnographic area is located in the northern part of Bosnia and Herzegovina on the southern edge of the Pannonian Plain, bounded by the rivers Spreca, Bosna and Krivaja. Through the century it was settled by Serbs people. From the Medieval age until today, monastery saint Nicolas, established by Serbs medieval king Dragutin Nemanjic in 13-ty century, has been center of gathering.
The local inhabitants treat iva grass with special respect. They belief if iva grass be pick up exclusively on the day of Beheading of saint John, it will have powerful healing effect. There is an old folk saying "iva grass rise the dead".
Iva Grass can be found on all major mounds on Ozren, but the practice is to pick the grass only on the day of the Beheading of St. John the Baptist on the slopes of one of the peaks of Ozren, Gostilj. The picking itself usually takes a few hours, because of the steep terrain and because Iva must be picked carefully and pickers need to find it among the higher grass. When the picking is done and they climb up Gostilj. People spontaneously assemble into many smaller groups, breakfast only lent food, some even do not eat anything red out of respect for St. John because his blood was shed on that day. Many people can be seen in Ozren folk costumes. They play and sing traditional music and dance in Ozren Round. In the afternoon, after picking and socializing, Orthodox priests climb to the peak of Gostilj where they consecrate Iva.
Even today, as in the past, transmission is carried out within the family, very spontaneously without certain forms and rules. When children and adults are sick, they are given Iva tea or honey in which the grass is chopped. The same is also used preventively. Adults will often take a glass of brandy with honey and Iva grass.
In the past, the practice of Iva Grass Picking on the day of the Beheading was exclusively related to folk medicine, a practice that was passed down from generation to generation for many centuries. Nowadays, this primary function symbolizes solidarity, hospitality, social integration and, circumstantially, it preserves Ozren costumes, songs and dances that have been gradually disappearing from daily life.
In 2019 UNESCO included element "Picking grass iva at Ozren" to the UNESCO Representative List of the Intangible cultural Heritage of Humanity .
Author: MA Bozidar Dosenovic
Publisher: Poste Srpske a.d. Banjaluka
Cooperation: Museum in Doboj, MA Nebojsa Dragojlovic, holder of the project of enrollment "Picking grass in Ozren" on the UNESCO Representative List