Edition
Title::Sport
Date of Issue:09.02.2019.
Author:Bozidar Dosenovic
Type edition:commemorative
Printing techniques:multicolour offset
Sheet:4х2
Paper:muflep 100g
Printing House:Forum, Novi Sad
Motive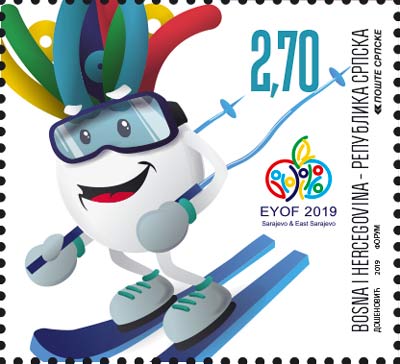 Motive:Grudvi, festival mascot and logo
Catalogue no.:795
Perforation:13 3/4
Face value:2.70 BAM
Quantity:15 000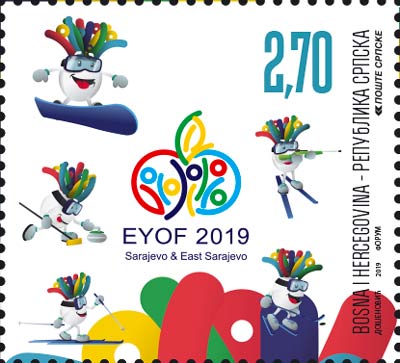 Motive:Grudvi, festival mascot and logo
Catalogue no.:796
Perforation:13 3/4
Face value:2.70 BAM
Quantity:15 000
FDC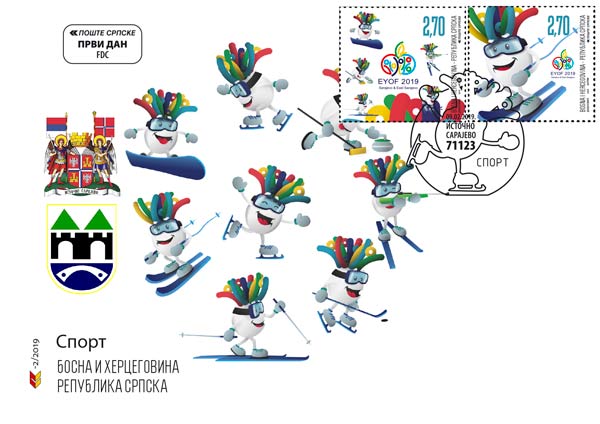 EYOF 2019 is the biggest sports and cultural event for young athletes aged 14-18 years. After the Olympic Games in 1984, EYOF 2019 is the first event to return the Olympic spirit to Bosnia and Herzegovina. EYOF 2019 is organized under the patronage of the International Olympic Committee and has all the characteristics of the Olympic Muniment, which includes Olympic flames, oaths and flags.
The hosts of the winter youth festival EYOF 2019 are the cities of Sarajevo and East Sarajevo who founded the limited liability company "EYOF 2019" d.o.o, above which is a Parliament of three representatives of both cities.
At EYOF 2019, 46 countries are currently registered, about 1086 athletes who will compete in eight sports (Alpine skiing - will be held in Jahorina in the slalom and giant slalom disciplines, and at Bjelasnica in parallel with slalom, biathlon - Dvorista, Pale, Nordic skiing - Igman, snowboard - Bjelasnica, art skating - Skenderija, Sarajevo; fast skating - Skenderija, Sarajevo; Hockey - Zetra, Sarajevo; Karling, Peki Hall, Pale.
• EYOF is the largest multi-sport event for young people from all over Europe;
• Teaches advantages and ideals within the Olympic Muniment;
• educates and motivates young people to engage in sport and promote healthy life;
EYOF 2019 is held from 09-16 February 2019 in the cities of Sarajevo and East Sarajevo ..
Successfully organized EYOF is a ticket for other similar or larger sporting events that can be held in Bosnia and Herzegovina. Also, who once visits the host cities, will surely return again. The great importance of EYOF 2019 for host cities is the legacy that remains. These are, above all, organized battlegrounds, developed awareness of winter sports, and education on volunteerism as a recognized experience in such an event.
Author: MA Bozidar Dosenovic
Publisher: Poste Srpske a.d. Banjaluka
Cooperation: Marketing team, European Youth Olympic Festival 2019, Sarajevo and East Sarajevo