Edition
Title::Drina Raft
Date of Issue:15.06.2018.
Author:Djurovic/Kuruzovic
Type edition:commemorative
Printing techniques:multicolour offset
Sheet:block
Paper:muflep 100g
Printing House:Forum, Novi Sad
Motive

Motive:raft
Catalogue no.:753
Perforation:13 3/4
Face value:4,40 BAM
Quantity:15 000
FDC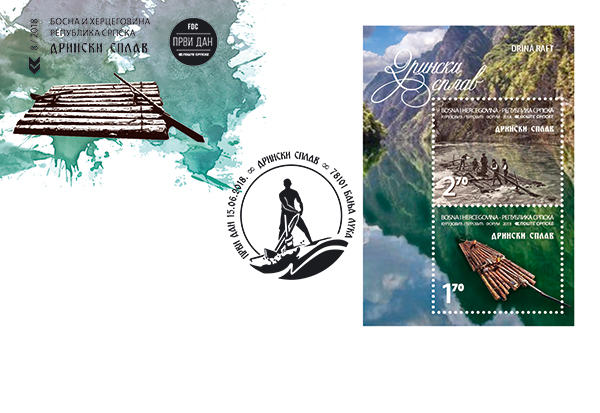 Throughout history, man has sought to improve, speed up and facilitate his movement and transfer things from one location to another. For this purpose, among other things, he used watercourses with a variety of vessels on them.
One of the simplest vessels is raft. The raft was made of boulders that were connected with clanfi, but could also be made of cut wooden material. The transport consisted of a number of rafts, and always more powerful and experienced people went first.
In our area, the first rafts started operating in 1856 and, mainly, they served for the transport of timber. The first rafters poorly knew Drina river, and before leaving, they said goodbye to their relatives as if they were going to war. A special danger to the rafts was the water mills on Drina and Sava, as there were also fatalities and abortions of the rafts under water mills. From 1878 Drina became the border between Serbia and Austria-Hungary, so each raft had to have a passport and only in the event of an accident could have tied its raft to the Bosnian coast of the Drina and was not allowed to move away from the coast more than 12 steps (it was so much long conveyor). So at that time the Drina was the most important road - blue, wide, curved road.
When in the 1960s trucks and railways took the lead in transporting timber, a new type of rafting appeared. The rafts are increasingly being used for tourist-recreational and sporting purposes.
Rafting at the emerald and shallow Drina offers everyone a unique experience.
Author: Milos Djurovic and Tanja Kuruzovic
Publisher: Poste Srpske a.d. Banjaluka
Cooperation: Tourist Agency ''Obner'', Gorazde