Edition
Title:: Europa - ancient postal routs
Date of Issue: 03.09.2020.
Author: Tanja Kuruzovic
Type edition: commemorative
Printing techniques: multicolour offset
Sheet: 8+1 and booklet
Paper: muflep 100g
Printing House: Blicdruk, Sarajevo
Motive

Motive: Transfer of postal items by railway of Bosnia and Herzegovina
Catalogue no.: 817
Perforation: 13 3/4
Face value: 2.70 BAM
Quantity: 20 000

Motive: Transfer of postal items by Tatars
Catalogue no.: 818
Perforation: 13 3/4
Face value: 1.80 BAM
Quantity: 20 000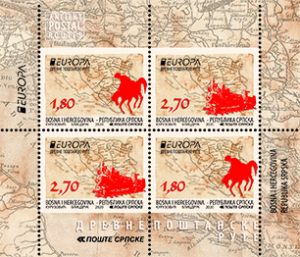 Motive: Transfer of postal items by railway of Bosnia and Herzegovina and by Tatars
Catalogue no.: 819
Perforation: 13 3/4
Face value: 9.00 BAM
Quantity: 10 000
FDC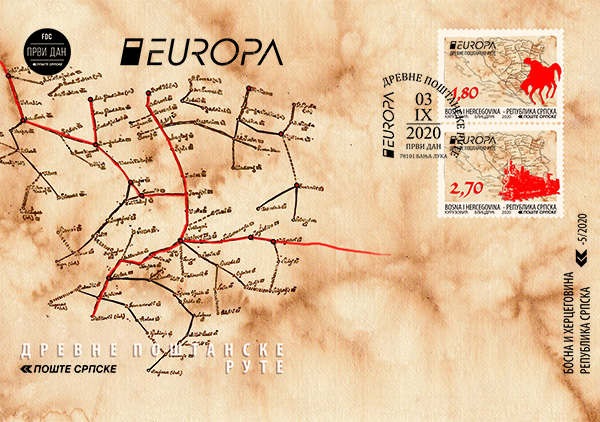 According to the saved documents from the Ottoman empire, the first posts on the territory of today's Republic of Srpska were opened during 1864. Višegrad, Zvornik, Bijeljina, Brčko, Gradiška and Brod had the privilege to get first the postal stations
In the period of the Ottoman empire there were no arranged post offices nor postal lines with a certain direction and time of arrival and departure of items. As needed, the mail transfer was carried out by the tatars on horseback. Carrying the mail, tatars retained briefly at the postal stations during their trip, where they changed their horses, rested and ate.Turkish authorities built the postal stations on every ten hours of walking. The main postal line was Travnik-Carigrad, which tatars held over Sarajevo, Rogatica, Višegrad, Priboj, Kosovska Mitrovica and continued to Skopje and the capital of the Ottoman empire. On that line, tatars carried important official letters, government documents...
The postal connection between Serbia and Bosnia started to function during 1851, and the mail transfer was carried out through boarder between Rača and Bijeljina.
When the first railway station had been built in this part of the Ottoman empire, that connected Banjaluka and Dobrljin, the items sent to Banjaluka and Gradiska were separated, while the other letters were sent by the railway to Banjaluka and Gradiska (former Bosanski Novi) and Dobrljin.
An official at the post office was obliged to mark every letter in ink with the weight and amount of charges paid and to put the seal on that spot.
Stamps and envelopes with stamps were sold in the bigger postal stations, and according to the postal regulations there were also possibilities of selling the postal stamps outside of postal facilities.
At the Congress of Berlin in 1878, Austria-Hungary took over the management of Bosnia and Herzegovina. Preparations for the operation of war post offices were an integral part of the extensive preparations for the occupation of Bosnia and Herzegovina. These mails only dealt with receiving and dispatching correspondence, newspapers, and money.
Author: Tanja Kuruzovic
Publisher: Poste Srpske a.d. Banjaluka